Get More Customers.
Get More Repeat Business.
Collect More Revenue
With A Mobile Website.
- 94% of Smartphone users have searched for Local information
- 70% called a business after searching
- 66% visited in person
- 90 % of these users acted within 24 hours!

Access to online information has to be incredibly user friendly for the mobile devices of today. Smartphone users in general favor browsers over apps (48% vs. 26%).

Another key fact that is impacting local merchants and businesses
is how mobile the consumer has truly become.

Searches on mobile devices have grown 500% in the past two
years and today, over 50% of all local searches are done on a
mobile device.


Consumers that own and use smartphones conduct local searches
nearly twice as much (61% vs. 32%) as general mobile phone users.

With 55 percent year over year growth, smartphone penetration has dramatically accelerated over the past two years, signaling future increases in local searches conducted from mobile devices.

Here is what they will likely do when they get there.

- Get directions and operating hours - 74%
- Contact the store - 64%
- Find product info - 61%
- Make a purchase or order a service - 50%

Over 40% of users in a 2011 survey of 4,014 global mobile web users turned to a competitors web site when they had a bad mobile experience

- 57% of mobile web users had a problem in the past year when accessing a website.

- 46% of mobile web users are unlikely to return to a website that they had trouble accessing from their phone and 57 percent are unlikely to recommend the site.

- And 34% said they'd likely visit a competitor's mobile website instead.

Another study by management consulting firm Accenture found that 73% of mobile-powered shoppers preferred mobile phones to retail clerks for basic assistance.

How does your website look on a mobile device?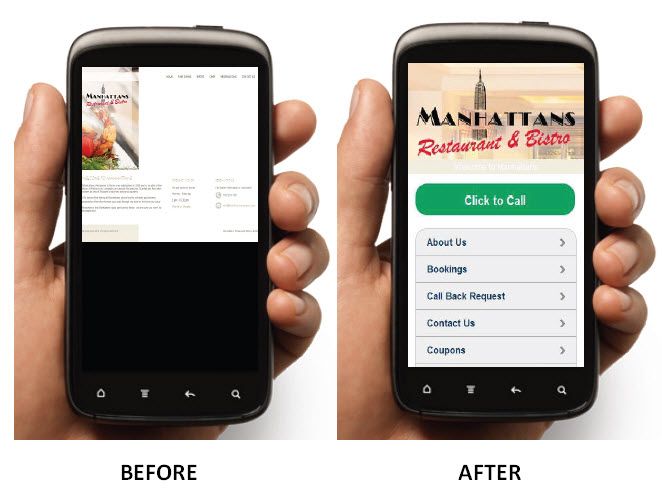 Get Your Mobile Website Today!